The Rochester & Pittsburgh Coal Company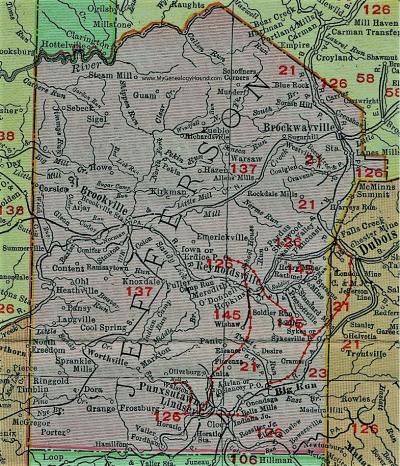 The Rochester and Pittsburgh Coal Company was incorporated as the Rochester and Pittsburgh Coal and Iron Company in 1881 in Indiana, PA, by the Adrian Iselin family, Swiss investment bankers from New York City. The company's first mines were located in Jefferson County, PA, in an area known as the Saw Mill Run Valley. These mines, including the Walston Mine which, by 1885, was using much of the coal it produced to make coke, boasted the longest string of coke ovens in the world. Five hundred employees worked in the ovens alone.
During the 1880's, with the backing of the Iselin banking firm, the R and P Coal and Iron Company expanded significantly, with large operations opened at Beachtree, Walston, Adrian, Florence, and Eleanora (found on the map, north of Punxsutawney and south of Brockwayville aka Brockway). By 1890, the Company had acquired over five thousand acres of coal lands. The Company had also purchased several small railroads, which they consolidated into one large railway company, the Buffalo, Rochester and Pittsburgh Railroad (this railway passes through Brockway).
Coal and coke shipped from the R and P Coal and Iron Company's mines found a ready market in the developing iron and steel industry adjacent to the Great Lakes area. The Buffalo, Rochester and Pittsburgh Railway, which connected the rich coal fields of southwestern Pennsylvania with Buffalo, Rochester, and other more distant markets in New England and Canada, afforded the shortest rail route, and consequently the cheapest route, to these markets.
In addition to the development of its own mines, the Rochester and Pittsburgh Coal and Iron Company actively pursued the acquisition of older mines with established output levels. Along with the Jefferson and Clearfield Coal and Iron Company, a company with an identical Board of Directors, R and P purchased the Helvetia mine in Clearfield County at the price of $1.1 million, an exorbitant sum in 1895. But for that price, in an average year Helvetia produced 252,142 tons of coal and 9,331 tons of coke. The R and P Coal and Iron Company also acquired the Bell, Lewis and Yates Mining Company in 1896, a purchase which included the rights to the Rochester Mine, an operating mine near Dubois in Clearfield County which dated back to 1877. The Rochester Mine produced an average of 504,720 tons of coal per year and employed six hundred miners. At almost the same time, R and P added the Big Soldier Mine near Reynoldsville, Jefferson County, to its holdings. With these new property acquisitions, the R and P Coal and Iron Company became one of the largest mining companies in the bituminous coal regions in southwestern Pennsylvania.
As the nineteenth century drew to a close, the R and P Coal and Iron Company continued to expand its existing operations, all the while seeking new coal lands and more lucrative markets for the coal it was producing. By obtaining track rights between Indiana and Pittsburgh over the B and O rails, R and P expanded the BR and P's area of operations, capitalizing on the growing Pittsburgh iron and steel industries. In April of 1900, R and P Coal and Iron purchased several thousand acres of land in the north-western section of Indiana County. For the opening of these coal fields, R and P Coal and Iron retained its president, Lucius Waterman Robinson, and its Board of Directors, and formed a complex system of subsidiary companies to head each of its new mines. This was done to protect the parent company from potential bankruptcy and to insure that all income tax advantages were exploited. The Iselin family continued its financial backing for all of the company's business ventures.
By 1920, R and P Coal and Iron had fifteen mines operating in Indiana County alone, the largest of which was Ernest, which employed one thousand men. This company-owned town epitomized the "mining patches" of southwestern Pennsylvania, with over a dozen different nationalities residing there. These immigrant miners and their families attended the company-built churches, schools, and community centers, bought their groceries in the company-owned stores, and lived in company-owned housing.
Overproduction, price wars, and competition from alternate fuels during and after World War I all contributed to a serious decline in coal company profits during the 1920's. By 1922, in an effort to recoup some of their losses, many coal operators attempted to reduce the union wage scale. Since seventy percent of all coal mined in the U.S. was mined under union wage agreements, this resulted in a series of nationwide strikes. By 1925, the center of the bituminous coal industry had shifted from Pennsylvania to Kentucky and West Virginia. As a result, many of R and P's mines were in operation for only one or two days a month. Company town residents searched for work on local farms, trading labor for food. Company executives gave up vacations and worked for periods of time without pay.
The R and P Coal and Iron Company entered the 1930's faced with the same economic problems which plagued the entire coal industry during the Depression years. A lack of uniform wage standards created still more difficulties in the coal industry, and by 1932, bituminous coal production in the U.S. fell to 305 million tons, the lowest rate since 1904.
As the economy gradually improved in the late thirties, the coal industry showed signs of recovery. With World War II on the horizon, the demand for coal increased. In anticipation of a growth of operations, R and P Coal and Iron reorganized in 1938, merging all of its subsidiaries and changing its name to the Rochester and Pittsburgh Coal Company. By 1939, R and P was producing 395 million tons of coal, which escalated to 514 million tons in 1941. This increase in production combined with the potential loss of employees to the armed forces forced R and P to modernize. R and P responded by installing updated mechanical loading equipment in all company mines.
Post-War coal production rates continued to climb, reaching R and P's all-time high of 631 million tons in 1947. In order to retain their portion of the market, R and P began to seek new coal fields as older operations were mined out. Several new mines were leased from other Indiana County operators, and R and P placed a new emphasis on surface mining. R and P also expanded a significant portion of its operations into West Virginia, where the company acquired the coal rights to 7500 acres of land. By 1955, production at O'Donnell, their largest West Virginia operation, had reached 998,728 tons annually.
During the 1950's, R and P struggled to offset the losses of another major slump in the coal industry due to competition from non-union fields and alternate fuels. In 1954, the company joined with the Vitro Corporation of America to form the Vitro Mineral Corporation. For several years, Vitro Minerals mined uranium, silver, feldspar, and titanium at sites as far away as Canada, French Guiana, Columbia and Alaska. Although these efforts to attain profits outside of the coal industry were moderately successful, the Vitro Minerals Corporation was dissolved in 1962 and R and P again concentrated on the coal fields of Indiana County.
The same year that Vitro Minerals was dissolved, Pennsylvania Electric Company (Penelec), a major consumer of coal, announced a plan to build the Keystone Steam Electric Generating Station. As railroad freight rates per ton of coal exceeded the market price of coal at the mine itself, utility companies sought alternatives that would reduce their costs. Based on the theory that it was cheaper to produce power near its fuel source and transmit the electricity to the point of usage than it was to ship the fuel to a power plant away from the fuel source, Penelec planned to build this station near the abundant coal fields of central Pennsylvania. Penelec officials approached R and P to determine whether there were sufficient coal reserves to fuel such a large facility. By mid-1964, R and P and Penelec had reached a coal supply agreement for this Station, and several new mines were under development by R and P to reach the terms of this agreement. By 1969, a second plant similar to Keystone had been constructed near Homer City, PA, which was also fueled by R and P coal.
Despite these two mine-mouth stations, which at least locally created a demand for coal, the 1960's were bleak days for the coal industry everywhere. R and P was forced to close many of its West Virginia operations, and the future of the Company depended upon the success of these mine-mouth operations.
Entering the 1970's, R and P had successfully altered its fundamental business strategy from that of selling coal on the commercial market to that of selling virtually its entire production under long-term contracts to only two customers, the Keystone and Homer City generating plants. Throughout the decade, R and P remained profitable in a difficult market marked by economic uncertainty and governmental regulation.
In 1981, R and P celebrated its centennial, commemorating one hundred years of continuous coal production. The Iselin family, the company's original founders, have remained actively involved as officers of R and P's Board of Directors.