The Brockway Bee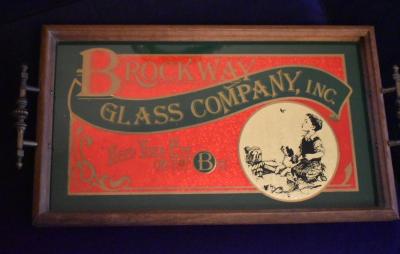 We were recently gifted this beautiful Brockway Glass Company tray. On the lower left in script writing, it reads, "Keep your eye on the Bee". Wanting to know more about the creation of the Bee – we took a trip to the local Historical Society or - as many of us call it, the Brockway Museum. A special thanks to staff members, Paula and Sandy for providing us with the following information.
"The Bee" was a newsletter first published in July of 1958 as a family type magazine written by and for the employees of the Brockway Glass Co. As written in the inaugural issue, "the purpose of the Bee is to bring to each employee, information concerning happenings within the company, things the company is doing in general, what activities your fellow employees are pursuing and general items of interest from each plant".
The bumble bee was used as the logo for the newsletter. As further explained in the first issue, "this is a way of introducing a long time member of the Brockway Glass Company family. He has been with us nearly since our founding and has taken part in every bottle and jar we have made. This is the first time he has taken on a personality and the first time you have seen him in print". The character the article refers to is the Brockway Glass Bee created from the Circle "B" trademark found on the bottom of BG manufactured bottles.
The Historical Society has a large area dedicated to the history of our beloved Brockway Glass Company. We encourage you to stop in for a visit.