WHAT'S ALL THE BUZZ ABOUT?
The structure that resides at 1017 Main Street in Brockway is one filled with rich history, much of which has shaped the town of Brockway (formerly Brockwayville) into what it is today. Read on to learn how what is now known as the Maple Shade Mansion Bed and Breakfast came to be!
Reynolds Lawrence (R. L.) Buzard , better known as "Rand", was born in 1842 to James and Mary Buzard. When Reynolds was nine, his father moved the family to Eldred Township near Sigel, PA (25 miles from Brockway) and purchased 140 acres of virgin timber in pursuit of new-found wealth to be made from logging in Jefferson County.
Side-by-side with his father and brothers, R. L. learned the lumber business. This honest hard-work afforded them a comfortable childhood and a strong financial foundation to begin business ventures of their own. Reynolds followed in his father's footsteps and accumulated substantial wealth from several successful lumber businesses. In 1886, the lumber tycoon moved from the Clarion area to Brockwayville in hopes of starting a profitable lumber business in an area full of pine, hemlock and hardwood. He, along with his wife Margaret L, sons, Robert. and Lawrence and daughters, Florence, Gertrude, Mary and Margaret would enjoy the comforts and beauty of Brockwayville and the home which is now fondly referred to as The Maple Shade Mansion.
Mr. Buzard's local business ventures began when he purchased a sawmill and timber tract just north of Brockwayville (Baghdad Run) from John Alexander and began a very successful lumbering business. He sold an interest in the operation to William G. McCain and the two created the 'Buzard & McCain Pine, Hemlock and Hardwood Lumber Company.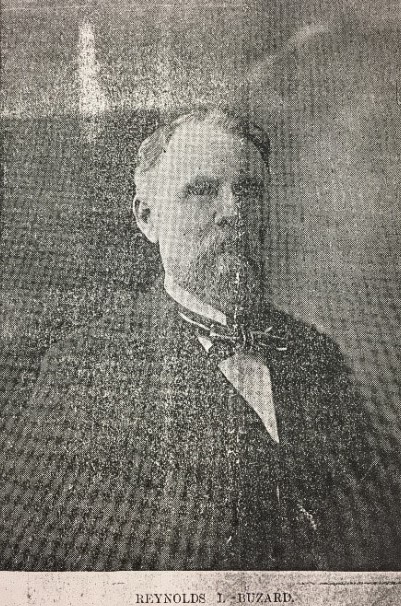 Their friendship so steadfast, Buzard chose the location of the corner of Main Street and 10th Avenue to build his grandiose home because his dear friend (and business partner), William G. McCain had purchased the land directly across the street and intended to build his own mansion. Whether you prefer McCain's "Victorian Gingerbread" style home or Buzard's more stoic, red brick Victorian home, both remain standing and symbolize the success and prominence of these two gentlemen.
In 1899 Buzard and McCain finished cutting and William McCain withdrew from the firm. Soon after, the name of the company was changed to The R.L. Buzard & Co. Not one to remain idle, Buzard then purchased the mill at Carrier from Cassius M. Carrier. The History of Carrier…. well, that's a story for another time…..
About the time Buzard purchased the mill at Carrier his health began to fail. This caused Mr. Buzard to leave the Brockway area, and he died on July 21, 1903 in his Hollywood, California home, which is where he lived part of each year. His death was due to complications caused by bronchitis; he was 61 years old. His tomb stone can be found in Clarion, PA – close to his family roots.
Upon Mr. Buzard's death, the following appeared in the Clarion Democrat, "He was one of the manliest and kindliest of men a true friend, a tender husband and father. His character is without stain, his business integrity above reproach. It has been said of him that there is no man living whose business relations have been of a higher order, or who has more thoroughly enjoyed the confidence and esteem of the business world. Passing through two seasons of great business depression, when many lumbermen went down, he was enabled by perseverance, pluck and grit, to weather the gale and come out unscathed."
We strongly urge you to trace the path of Mr. Buzard's interests and operations in the local sawmills (Baghdad Run and Carrier) by walking or biking along the Little Toby Rails to Trails (located 3 blocks from the Mansion) where signs and landmarks clearly depict his magnificent influence on Brockway.