Hot on the Trail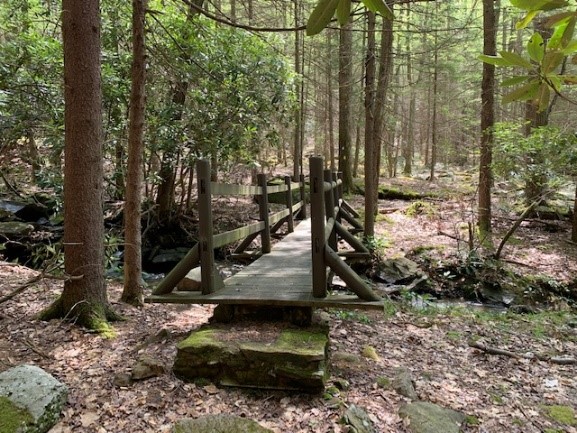 I've always recommended the Clarion Little Toby Rails to Trails - Brockway to Ridgway Trail to our guests because of its awesome beauty, ties to Brockway's rich history and ideal location to the Mansion. However, during quarantine, we took to traveling around the area and found some wonderful trails that I'd like to share.
The first hike we took was to the Rim Rock Overlook Trail. It's located between Kane and Warren, PA, and is about an hour drive from the Mansion. It's full of breathtaking rock formations and a uniquely engineered rock staircase that winds through the boulders that lead to landings that overlook the great river and forest below. The trail was well maintained and had a few muddy spots, but nothing that prohibited us from wearing sneakers and jumping over a puddle here and there. It was a slow steady grade up until we reached the rock staircases and then we had to use a little bit more energy – but nothing too difficult. The rock formations were like nothing we had ever seen!
The second excursion was a bit closer, it was the Marion Brooks Loop located near Weedville (about 45 minutes from the Mansion). It's a relatively flat trail and is unusual in the sense that we passed through several different landscapes, feeling almost as if we were on a safari (I know that sounds a bit absurd). The path was well marked with yellow arrows and was easy to navigate. We veered off the path slightly in search of the stream that we heard; it was a small stream - serene and beautiful. Once again we wore our sneakers and didn't get muddy.
Another trail we visited that is worth visiting is located in Clear Creek State Park (near Sigel), about a 30 minute drive west from the Maple Shade. It's called the Phyllis Run Loop Trail. It's one of many trails located in the area, we just happened to choose Phyllis Run as the one we wanted to explore. It has rocky streams, steep and steady inclines and beautiful foliage. I suspect in late May and early June when the rhododendrons are in full bloom the hillside view is magnificent. While on the trail we could've turned off in any number of directions and hopped on another well-marked trail. At the end of the journey we dipped our feet in the refreshing water at what is commonly referred to as the 'beach'. It was busy with families and kids who were bravely swimming in the chilly (but clear) water.
While the rock formations were breathtakingly beautiful at Rim Rock, and the Phyllis Run Loop had a lot to offer, the family voted the Marion Brooks Loop as their favorite.