Come Fall in Love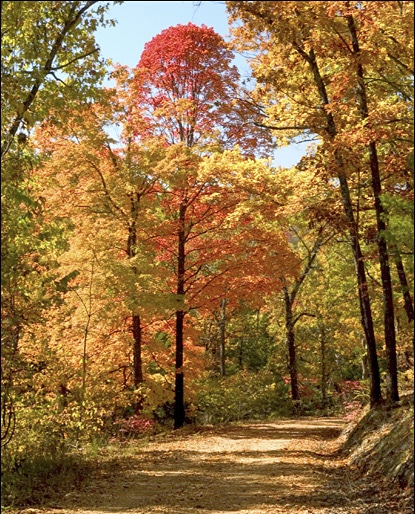 The cool, crisp air of Autumn, with its splay of red, yellow and orange blanketing the riverside hills will soon beckon travelers to embrace the beauty of the outdoors, and soak in the splendor of Fall before the onset of Winter.
Celebrate the changing colors of fall while walking, hiking or biking on the Little Toby Trail just 3 blocks from the Maple Shade Mansion (the Trailhead is on 7th Avenue, off of Main Street/Rt. 28).
Located in the heart of the Pennsylvania Wilds, the 18 mile trail explodes with fascinating finds. Remnants of ghost towns once alive during Pennsylvania's lumbering era over a hundred years ago can be found along the trek. Spy small waterfalls, a swinging bridge and beautiful flora. The trail is alive with the sounds and sites of woodland songbirds, wild turkey, bald eagles, beavers and the ever present white-tailed deer.
Adding to the natural beauty of autumn in Brockway are a variety of festivals, events and activities that help celebrate the season. Harvesting fruits and vegetables, visiting farms, pumpkin patches and corn mazes, and local wineries are among the host of outdoor things to do that make this such a special time of year. See our attractions tab for more information.
A visit to the quaint town of Brockway, PA is sure to please savvy travelers seeking beautiful fall foliage and a relaxing get-a-way. Guests of the Maple Shade Mansion will find unparalleled accommodations with 5 elegant guest rooms and suites and a professional staff to welcome you. Call today at (814) 265-1023 and let us assist you in planning your Fall get-a-way.